Dans les coulisses des photos...
Exploration "Fontaine du Truffe", Lacave, Lot, France
Photos: Sébastien Delautier
Videos: Jeremy Garrouste https://www.instagram.com/jeremy.garrouste/

Video editing/montage: Sébastien Delautier

July 2020 - Juillet 2020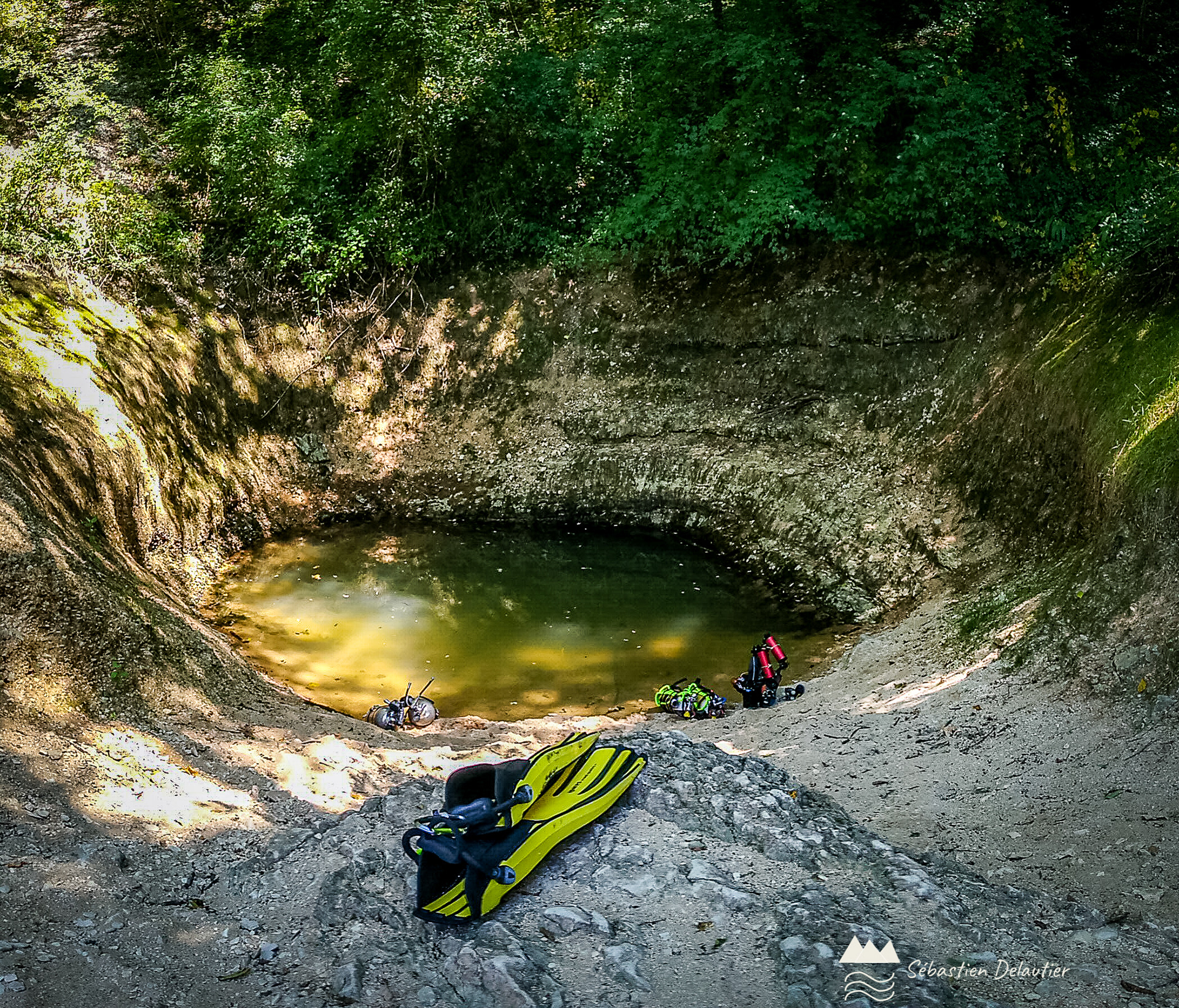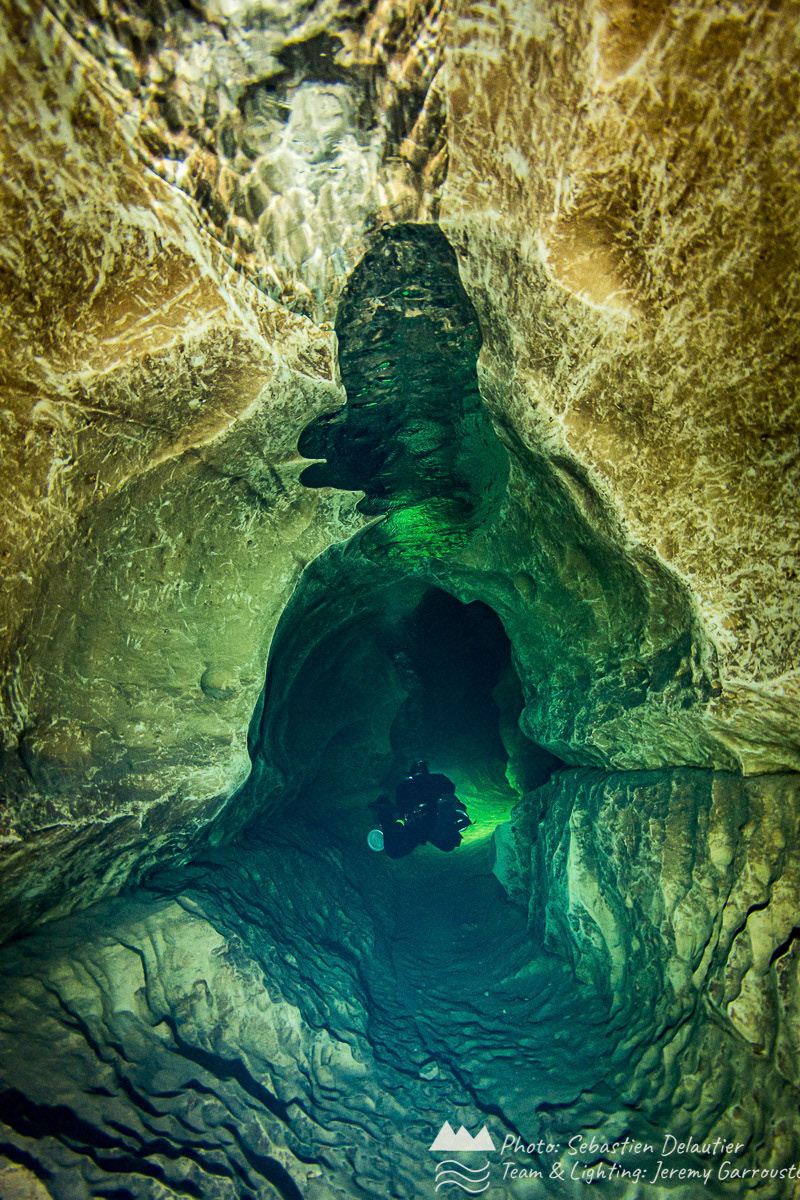 The network of Fontaine du Truffe develops over several kilometres of dry and submerged galleries. 
The submerged part has 14 known siphons, the last of which was explored in 2012.
Le réseau de la Fontaine du Truffe se développe sur plusieurs kilomètres de galeries sèches et immergées. 

La partie immergée compte 14 siphons connus dont le dernier a été exploré en 2012.
After a generally murky entrance, the cavity opens onto a medium sized gallery of surprising clarity.
In spite of its beauty, this gallery is little frequented because it begins with a narrow entrance. This natural restriction prohibits the use of classic backmounted scuba gear. It is necessary to access it with a so-called "lateral" configuration, where the breathing apparatus is on the diver's side to reduce the diver's profile. 
Après une entrée généralement trouble, la cavité s'ouvre sur une galerie de taille moyenne d'une clarté surprenante.

En dépit de sa beauté, cette galerie est peu fréquentée car elle débute par une étroiture. Cette restriction naturelle interdit les scaphandres classiques portés sur le dos. Il est nécessaire d'y accéder avec une configuration dite "latérale", où les appareils respiratoires sont sur le côté du plongeur afin de réduire son profil.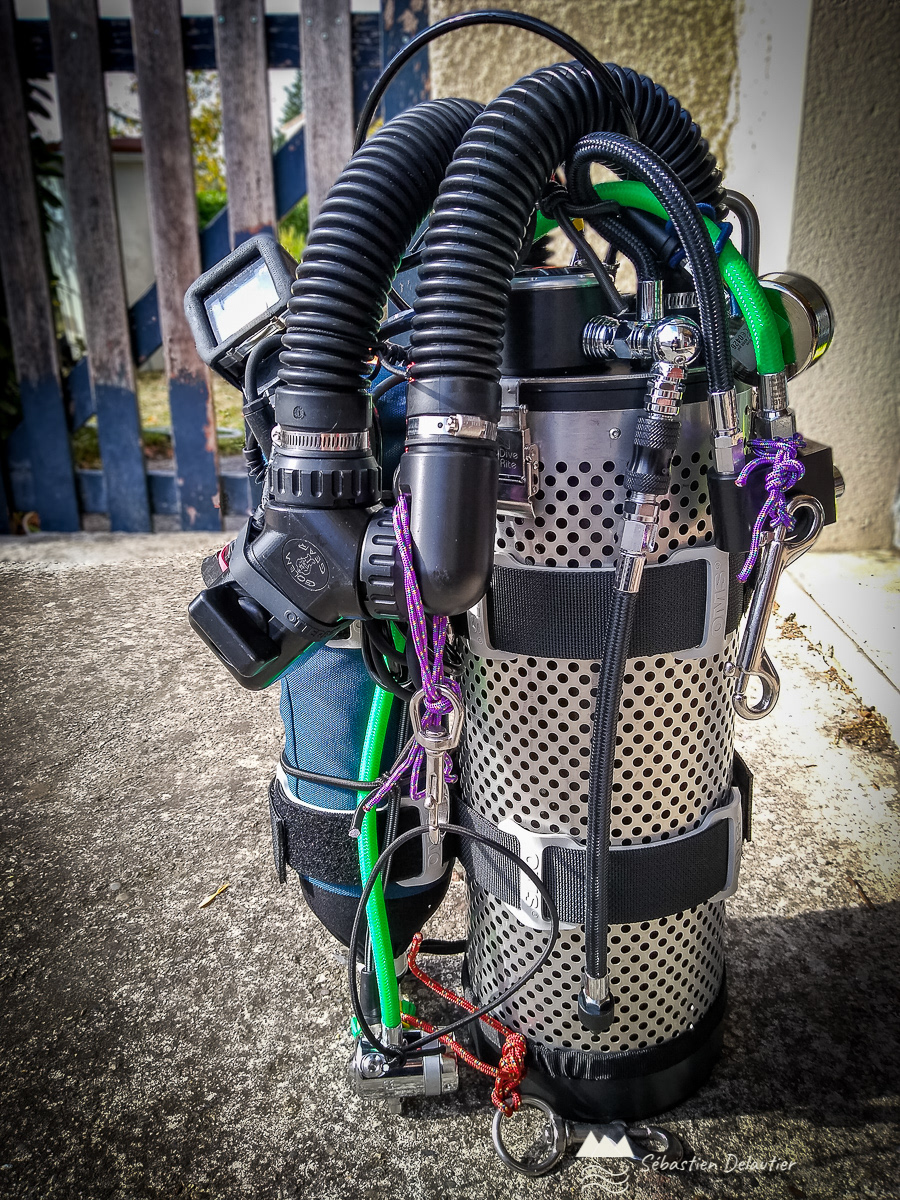 For this exploration, two dive configurations were used.
Jeremy: lateral open circuit configuration with 2 S80 air tanks. That's about 22L of tank in total. Enough to stay in the first sump for a very long time.
Sebastien: lateral configuration Ursus rebreather, with 2 air cylinders of 6L each as back-up in case of failure of the rebreather. 
Depending on the dive plan, these configurations allow us to go (and come back) to the 3rd sump if necessary.
Pour cette exploration, deux configurations de plongée ont été utilisées.

Jeremy: configuration latérale circuit ouvert avec 2 bouteilles S80 air. Soit environ 22L de bouteille au total. De quoi rester très longtemps dans le premier siphon
Sebastien: configuration latérale recycleur Ursus, avec en secours 2 bouteilles d'air de 6L chacune en cas de défaillance du recycleur. 
Selon le plan de plongée, ces scaphandres nous permettent d'aller (et revenir) jusqu'au 3eme siphon si nécessaire.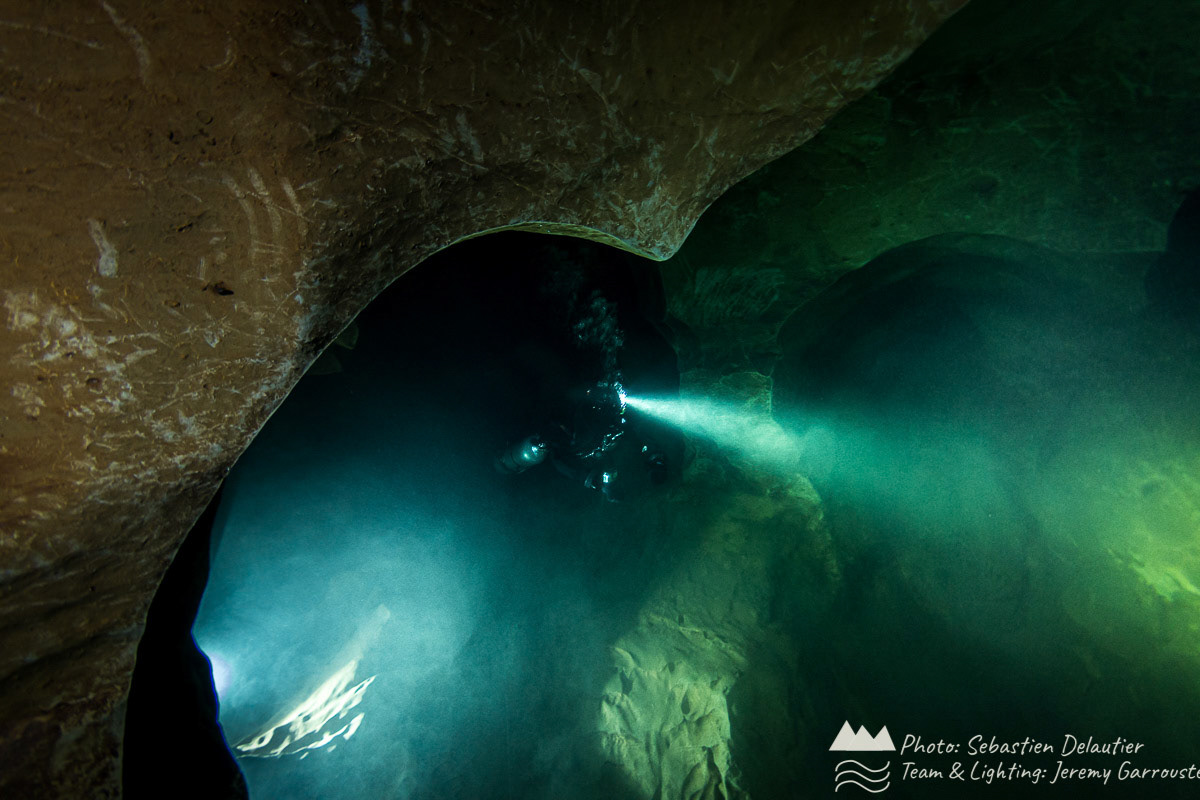 Sump 1 is about 150m long. Its maximum depth is 13m.
The gallery is of average size. Two places are peculiar with a shaft and a room with a pillar where you can turn around.
Sump 1 opens on a breathable aerial part. In periods of low water, it is necessary to climb to pass into Sump 2.
Le siphon 1 mesure environ 150m. Sa profondeur maximale est de 13m.

La galerie est de taille moyenne. Deux endroits sont particuliers avec notamment un puits ainsi qu'une salle avec un pilier dont on peut faire le tour.
Le siphon 1 débouche sur une partie aérienne respirable. En période de basses eaux, il faut grimper pour passer dans le 2eme siphon.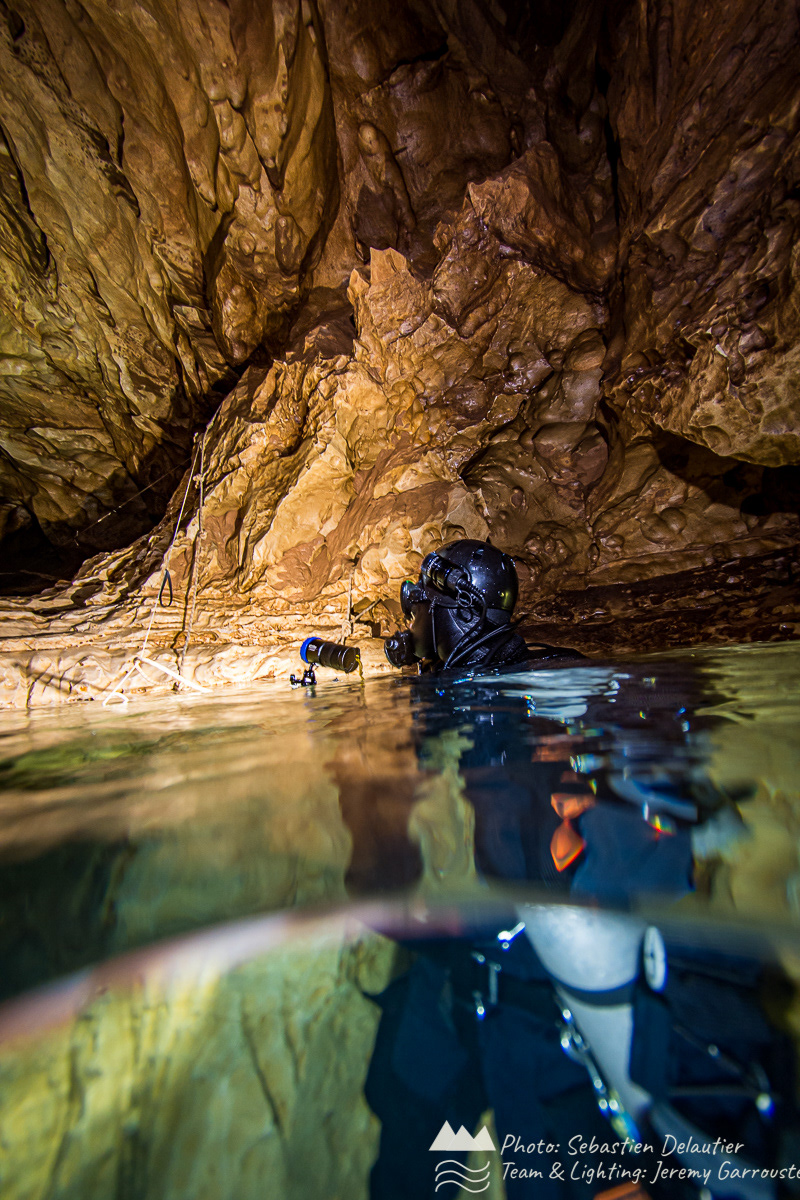 The exit is as narrow as the entrance since you have to turn around and go back the same way. During the exploration time, the particles have settled down and the first diver can see the crossing. The visibility for the second diver remains limited...
La sortie est aussi étroite que l'entrée puisqu'il faut faire demi-tour et repasser par le même chemin. Le temps de l'exploration les particules sont retombées et le premier plongeur peut voir la traversée. La visibilité pour le second reste limitée...
End of this first exploration. I will come back for the next sumps
Fin de cette première exploration. Je reviendrai pour les autres siphons